LCHC Volunteer Services is designed to match volunteers with opportunities for the mutual benefit of all involved. Manager, Kristine Kennedy, works with more than one hundred volunteers who donate thousands of hours of their time to the community. LCHC Volunteer Services places people, ages 14 and older, in a wide variety of meaningful positions.
Volunteer opportunities include, but are not limited to:
Ambassador
Gift Shop
Lifeline
SHIIP
Transportation
Museums
Nursing Homes
Conservation Programs
Community Events
…and much more!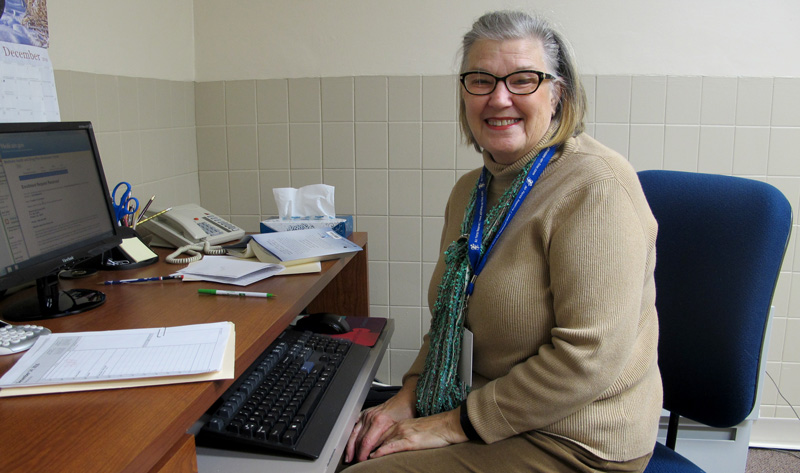 ---
Become a Volunteer
By becoming a volunteer with LCHC Volunteer Services, you will find fulfillment and a sense of purpose. To sign up, complete the online Volunteer Application, or contact Kristine Kennedy at the Volunteer Services office. After you have completed the online application, you will need to read the online Volunteer Handbook and confirm you have read it by completing the Acknowledgment of Receipt of Handbook form. From there, an interview will be conducted to determine where your interests may lie in volunteering. All volunteers must complete required medical screening after completing the interview process.
If you or someone you know is interested in volunteering for Lucas County Health Center, please complete the Volunteer Application below.
---
Volunteer Fundraisers
Fundraising is an important part of Volunteer Services. By holding sales and fundraising events, LCHC Volunteer Services is able to provide low cost or free services to our community.
---
Volunteer Services Scholarship Program
LCHC Volunteer Services is delighted that you have chosen to continue your education in the health care field and we're equally delighted that you have chosen to apply for the LCHC scholarship to help pay for that education.
This scholarship is only available to scholars who have lived in Lucas County for at least one year and to those who have chosen to pursue a career in health care. Two $500 scholarships will be awarded, of which one will be awarded to a current graduating senior and one to continuing education. A written contract will be signed by those award the scholarships. Deadline: April 15, 2018
Application Forms
---
LifeLine Support Services
Anyone who is concerned about someone who is frail or elderly will be interested in learning more about Lifeline®, a personal emergency response program designed to help adults maintain their independent living. For a monthly fee, with no contract required, a Lifeline® unit will be installed in a person's home to offer increased peace of mind.
With the push of a button, Lifeline® subscribers are connected with trained specialists who will speak with them through the Lifeline® unit. The operator will determine if a family member or neighbor should be notified or if an ambulance should be dispatched.
For more information about Lifeline®, email us or call (641) 774-3226 or (800) 404-3111 ext. 3226.
Lifeline® is not a substitute for emergency 911. Lifeline® installation requires a land-line telephone.
---
Senior Health Insurance Information Program
Through the Senior Health Insurance Information Program (SHIIP), LCHC Volunteer Services offers local residents help in understanding the Medicare system and other insurance programs. A trained volunteer is available, by appointment only, to discuss specific insurance issues with individuals.
Are you a Medicare beneficiary confused by the current prescription plan choices? The SHIIP program can help with this aspect of medicare, as well. One of our volunteer will sit with you, in a private appointment, to review all options so that you can make the right choice for your prescription drug plan needs.
To schedule an appointment, call Kristine Kennedy, Volunteer Services Manager, at (641) 774-3226.
---
Transportation Program
The most unique service provided by LCHC's Volunteer Services is transportation. Volunteers will drive individuals to and from the hospital or medical clinics in Chariton, and will even transport individuals to Des Moines, Iowa City, and Ottumwa for medical services.
The overall transportation service logged 400 hours in 2013, something that no other hospital provides on a volunteer basis. If the transportation is in town, it's at no charge to the rider. If it's to Des Moines or another city or town, the rider is asked to pay for the gas to get there and back.
Many of the fundraisers that Volunteer Services has throughout the year helps cover the cost of insurance to cover the drivers and volunteers.
---
Volunteer Opportunities