Education
Associate of Radiologic Sciences
Indian Hills Community College
Ottumwa, Iowa
Bachelor of Health Science
Mercy College of Health Sciences
Des Moines, Iowa
Masters of Physician Assistant Studies
Des Moines University
Des Moines, Iowa

Certifications
Board Certified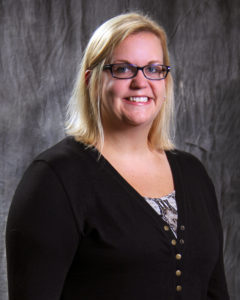 ---
About
Amy was born in Arkansas but spent most of her life living in Des Moines. She escaped the city when she went to x-ray school in Ottumwa at Indian Hills Community College, where she graduated in 2007. After graduation, Amy worked as a Radiology Tech for 5 years in Des Moines at Broadlawns Hospital. A couple years into her career, she was inspired by a Physician Assistant and decided to further her career. She completed her Bachelors of Health Science from Mercy College and went on to Des Moines University for PA school.
Amy's drive for rural medicine comes from watching her grandfather practice medicine in a small community. He was the town doctor in a southwest Iowa town for 50 years and it wasn't abnormal for someone to show up at the front door needing stitches or a shot of penicillin (even if it was Christmas Eve.) Although medicine is very different today, she carries a lot of what she learned from her grandfather with her.
Amy and her husband, David, along with their twins, Calvin and Nora, and their dog, Hank, enjoy all aspects of living in a small community.
Services Offered
General family medicine
Pediatrics
Immunizations
Adult and child wellness examinations
Physicals, including school and employment
DOT examinations
Dermatology (including skin lesions, biopsies, rashes, excisions, and more)
Diagnosis and interpretation of labs and x-rays
Referrals to specialists
Education and counseling
Laceration repairs with sutures or staples
Casting and splinting