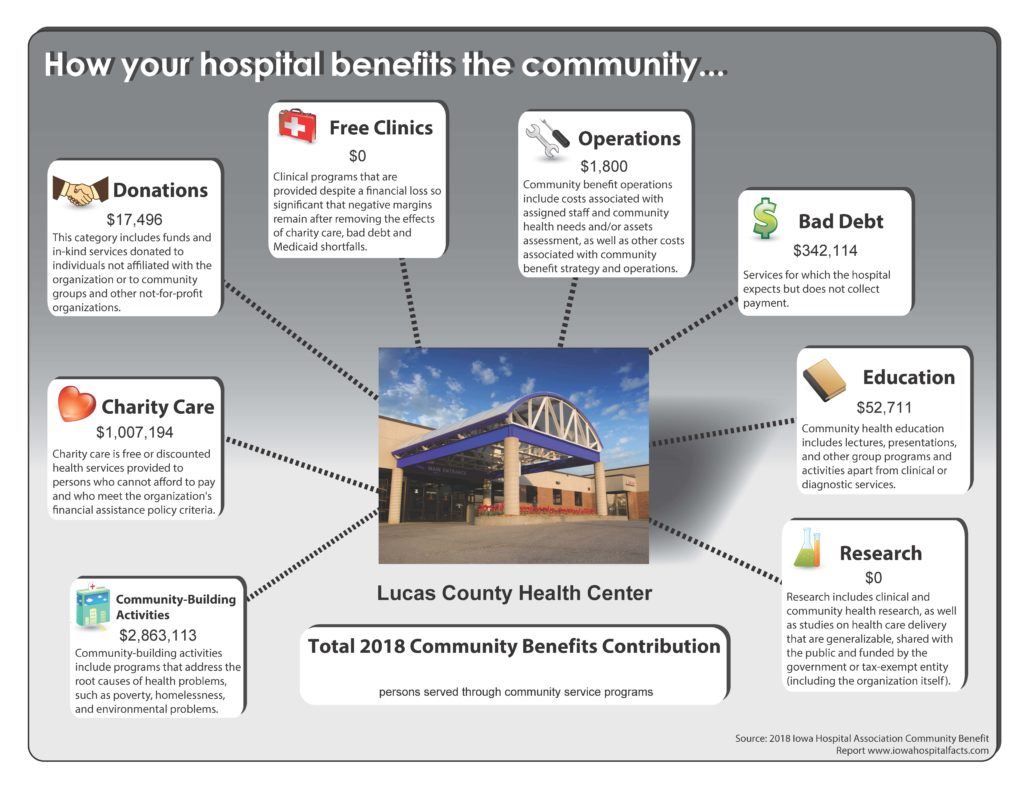 Community Benefit
As a not-for-profit, Lucas County Health Center's revenues are used to continually improve patient care through enhanced staff skills, technology, and facilities. A portion of our revenues are annual reinvested in the communities we serve through health and wellness programs, sponsorships, and financial assistance known as Community Benefits.
In 2018, LCHC's Community Benefits totaled more than $4 million including over $1 million in charity care, more than $2 million in community building activity, $50k in education, and more.
Community Building Activities: $2,863,113
Charity Care: $1,007,194
Donations, $17,496
Free Clinics: $0
Operations: $1,800
Bad Debt: $342,114
Education, $42,711
Research: $0
Total: $4,274, 428
Community Health Needs Assessment
Every 5 years, Lucas County Health Center partners with Lucas County Public Health to complete a Community Health Needs Assessment. Together, these two organizations work to address the health needs of Lucas County residents. By collecting data, we are able to determine our partnerships and goals from a resource, education, and delivery standpoint and establish points to measure success.
With more than 140 surveys analyzed, the 2016 CHNA identified the following as Lucas County's top health concerns:
obesity
mental health
joint/back pain
transportation
need for additional providers/physicians
Economic Impact
Each year the Iowa Hospital association (IHA) completes a study to determine the economic impact Iowa hospitals have on their communities.
The IHA study examines the jobs, income, retail sales, and sales tax produced by hospitals and the rest of the state's health care sector. The study is compiled from hospital-submitted data on the American Hospital Association's Annual Survey of Hospitals and with software that other industries have used to determine their economic impact.