Lucas County Health Center's Education Department is a valuable resource for the local community. Healthcare professionals, first responders, firefighters, and community members are encouraged to turn to LCHC for their continuing health education and training needs.
Current Training Schedule
LCHC's Education Department offers a variety of training classes each month. Registration for these classes is required and can be made online or by calling Darcy Juline, Education Coordinator at (641) 774-3204.
ACLS
These classes are held every other month and begin at 9 AM in our Education Room. Upcoming class dates are as follows:
September 29, 2020 (Renewal Class)
October 6 and 7, 2020 (Full Class)
November 3, 2020 (Renewal Class)
November 4 and 5, 2020 (Full Class)
Mandatory Reporter
As of July 1, 2019 Mandatory Reporter Training is now online through the DHS website. If you have any questions or need assistance contact LCHC Education Manager, Darcy Juline, RN, by email (djuline@lchcia.com) or by calling (641) 774-3204.
LCHC Employees: All LCHC employees must complete both the Dependent Adult and Child Abuse sections (average of 4 – 4.5 hours to complete.) After you complete your initial online, please provide a copy of your certificate to Human Resources.
CPR and First Aid
First Aid and CPR Classes are held on the third Wednesday of each month (excluding August and December.) CPR classes are limited. Class dates are:
July 15, 2020
September 16, 2020
October 21, 2020
November 18, 2020
Class schedule is:
8 AM – 12 PM: Healthcare Provider CPR/BLS Training
3 – 6 PM: First Aid Training
6 – 10 PM: Public CPR Training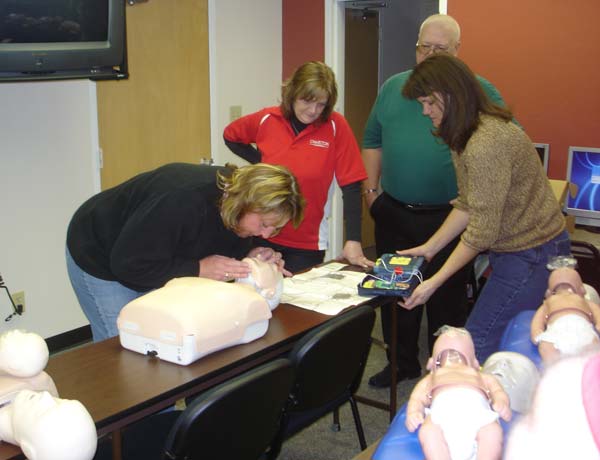 PALS
These classes are held every other month. Classes begin at 9 AM in our Education Room. If attending the full course, attendees must be present both days. Upcoming class dates are as follows:
July 7, 2020 (Renewal Class)
October 29, 2020 (Renewal Class)
November 19 and 20, 2020 (Full Class)
Telemetry
Telemetry classes take place from 9 AM – 3 PM in our Education Room. Cost is $25. Upcoming Telemetry class dates are:
September 1, 2020
October 27, 2020