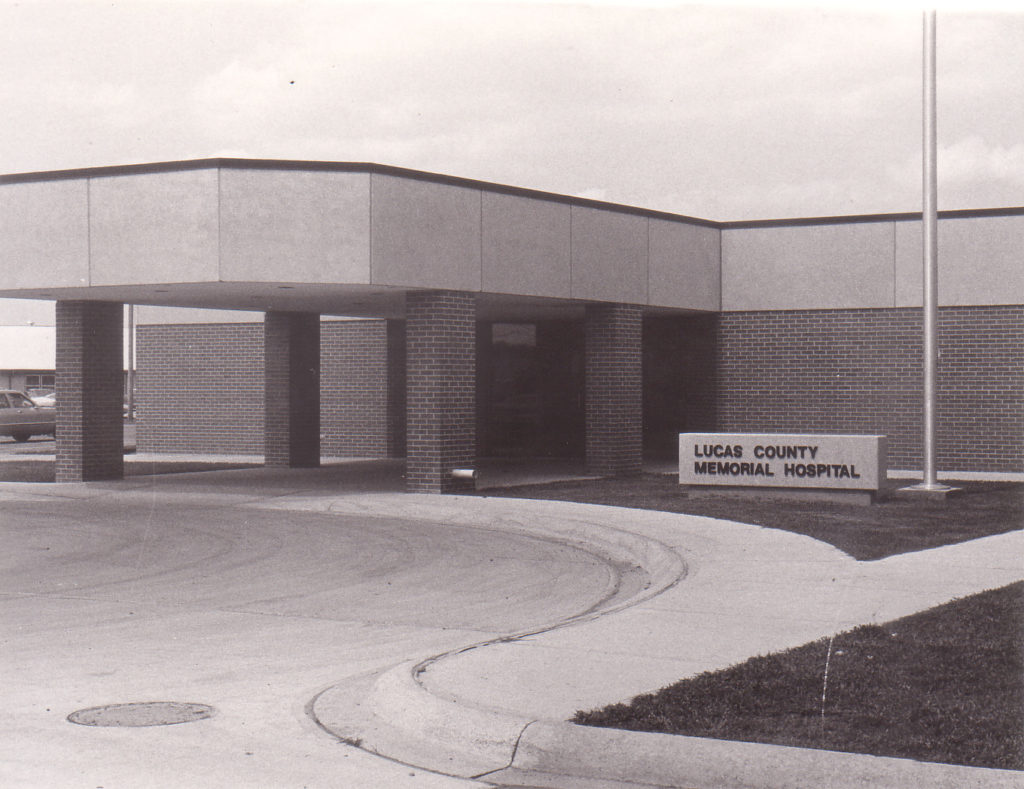 In 1956, a group of citizens interested in developing a county hospital gathered 200 signatures in support of the project and placed the matter in the hands of the Lucas County Board of Supervisors. A public vote on November 6, 1956 showed the public was firmly behind constructing a county hospital. The supervisors issued $200,000 in bonds to begin the building process.
When the supervisors received a $180,000 Hill-Burton federal grant, the Lucas County Memorial Hospital Foundation formed and organized a drive to raise matching funds to comply with the Hill-Burton requirements. Foundation members Judge Harold Levis, John Woodman, F.B. Ryan, and John Baldridge were able to raise $170,000 in private funds.
The hospital's founding fathers organized when its first Board of Trustees meeting convened. The first trustees – Delbert James, Arthur Keller, Oliver Kent, Fred Curtis, Dean Ferguson, Earl Wright and Oran Garrett – met to decide how to pursue the construction of a modern hospital in Chariton. Months of attention to the smallest details produced a hospital plan, including 12 baby beds and a thoroughly modern surgical facility.
Construction on what would become Lucas County Memorial Hospital begin in the fall of 1959 and a grand opening was held on May 1, 1961 to announce the community's modern medical facility was open for business.
---
Timeline
1956: A group of interested citizens gather 200 signatures in support of building a county hospital
1956: On November 6, a public vote showed the community was in support of building a county hospital
1959: Construction begins on what will become Lucas County Memorial Hospital
1961: The community's modern facility is opened
1969: A 48-bed addition is constructed
1970: A two-unit ambulance service was added
1971: A four-bed intensive care unit is equipped with the latest technology
1982: Humeston Medical Clinic opens
1986: Lucas County Memorial Hospital adopted the name of Lucas County Health Center
1989: Kids' Life Discovery Center and Discovery Preschool opens at LCHC
1992: The Medical Office Building (6,750 square feet), Emergency/Outpatient Service expansion (13,821 square feet), diagnostic services, and mobile services dock expansion were completed
1999: The LCHC Mammography Center began offering on-site mammography every weekday
2000: LCHC Foundation purchases the Vredenburg Center, a 55,000 square foot, two story building which formerly housed the corporate headquarters of Hy-Vee, Inc. The acquisition was made possible when Hy-Vee offered the property for sale and the Vredenburg Foundation donated the purchase price of $1.1 million to the LCHC Foundation.
2002: A large portion of the second story of the Vredenburg Center is remodeled to house LCHC's Kids' Life Discovery Center and Preschool.
2005: Healthy University begins, offering tuition-free health education for the community
2008: Ownership of the Vredenburg Center is transferred to Lucas County Health Center
2009: Kids' Life Discovery Center creates a Nature Explore Classroom recognized by the National Arbor Day Foundation
2009: Docs Who Care, a physician group providing emergency medical services, joins LCHC's Emergency Department allowing for expanded physician access for patients.
2010: LCHC's new obstetrics wing opens and offers an expansion of labor and delivery services. The renovation includes two luxurious whirlpool labor and delivery suites, as well as state-of-the-art technology for the delivery of each baby.
2011: LCHC holds a special celebration to commemorate its 50 years of healthcare services.
2011: LCHC purchases Chariton Family Medical Center, located at the northwest side of LCHC's campus. Under its new name of LCHC Medical Clinic, the providers and staff continue to offer family practice services to the community.
2015: On September 1, LCHC affiliates with UnityPoint Health – Des Moines.
2016: Kids Life Discovery Center transitioned to a new entity called Hope Learning Center
2017: Humeston Medical Clinic closes
2017: Counseling Services transitioned to a new entity – Community Health Centers of Southern Iowa
2017: LCHC Medical Clinic expands hours to be open 7 days a week
2018: LCHC teams up with Chariton High School for Athletic Training Services to prevent and treat sports injuries with local student athletes
2018: LCHC no longer delivers babies
2018: LCHC upgrades to digital radiology
2018: LCHC implements hospitalist program
2018: LCHC purchases new telemetry system to create better communication between nurses, providers, and our electronic medical record system
2018: LCHC Implements DAISY Award to recognize nurses
2019: LCHC Medical Clinic recognized as an Exemplar Practice, 1 of 6 in the state of Iowa
2019: LCHC Medical Clinic recognized as a Pinnacle Practice
2019: LCHC recognized as a Top 20 Critical Access Hospital for Quality in the nation by the National Rural Health Association
2019: LCHC named Iowa's "Community Star" by the National Organization of State Offices of Rural Health
2019 & Beyond: As a 25-bed critical access, non-profit, county hospital, LCHC looks forward to continuing its tradition of providing excellence in health care.