1200 North 7th Street, Chariton, Iowa 50049
Phone: (641) 774-3213 | Toll-free: (800) 404-3111 | Email: kkaska@lchcia.com
Whether you are recovering from surgery, injury, illness or stroke, we can help you regain your mobility, strength, and daily function.
Physical Therapy services at LCHC provide relief from pain for patients who suffer from headaches as well as acute or chronic pain in the back, neck and joints. Therapy also benefits patients who have suffered neurological conditions such as stroke, spinal cord injury, and traumatic brain injury, as well as more chronic conditions such as Parkinson's and Multiple Sclerosis.
Physical Therapy provides successful treatment of illness and injury, including post-surgical therapy to help patients regain mobility and strength following joint replacement surgery (knees, hips, and shoulders), spinal surgery (neck and back), and surgery to repair rotator cuff, ACL, and miniscus.
Patients suffering from incontinence, balance deficits, and various forms of dizziness may also find Physical Therapy to be beneficial to their health and well-being.
Additionally, we are happy to provide initial assessment for the eligibility of powered mobility and other durable home medical equipment and advise on appropriate equipment and specifications for patient use.
We accept referrals from your primary care provider and/or specialist. Most services are covered by insurance, but we urge all patients to check with their insurance provider to verify coverage prior to receiving treatment.
For more information about Physical Therapy and how it can help reduce or eliminate chronic or acute pain and allow for the regaining of strength and mobility, please contact us.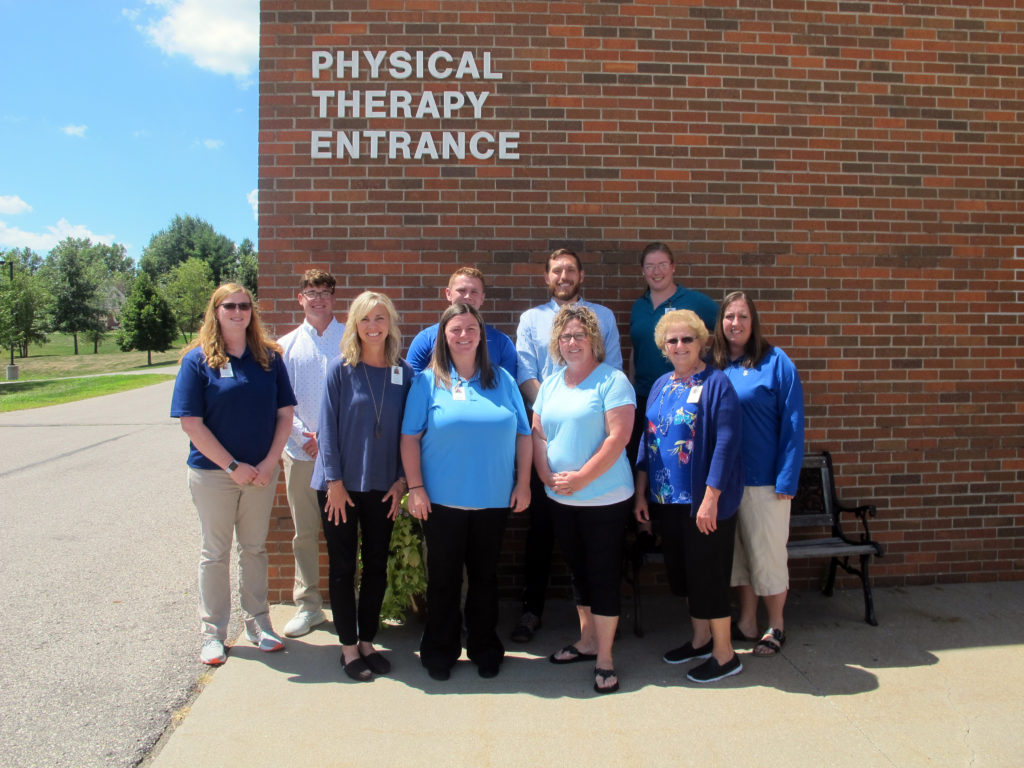 ---
Occupational Therapy
LCHC Occupational Therapy offers a wide range of treatment options for patients who have sustained an injury or suffer from a debilitating illness such as a stroke or cancer. We offer upper extremity and hand rehabilitation, activities of daily living recovery, and lymphedema treatment.
Upper Extremity and Hand Rehabilitation: Upper extremity and hand rehabilitation focuses on the functional recovery from an injury, surgery, or degenerative disease process. Treatment is an individualized plan to help focus on gaining motion, strength, and coordination, as well as decreasing pain in the injured area. This, in turn, will improve independence with daily home and work activities.
Activities of Daily Living Recovery: Our Occupational Therapist is a trained professional who can assist an individual as they regain their independence in activities of daily living such as dressing, bathing, personal hygiene, feeding, toileting, cooking, and cleaning. Working with the patient and family, our occupational therapist will assist in modifying, as necessary, and restoring independence through patient and caregiver education, training in adaptive equipment use, home modifications, and task simplification.
Lymphedema Treatment: Common causes of lymphedema include surgery, trauma, and radiation in a lymph node region. Also, one in three women will develop lymphedema, following certain breast cancer removals. LCHC has a certified lymphedema therapist who can help reduce swelling with lymphatic drainage, compression bandaging, skin care, and exercise programs.
---
Physical Capacity Profile (PCP) Testing System
LCHC offers the Physical Capacity Profile (PCP) Testing System to employers as a way to assist in hiring employees for job functions that best match their physical capacity, which in turn, helps lower worker's compensation claims from injuries due to job tasks that aren't adequately suited to an employee.
---
Speech Therapy
LCHC Speech Therapy offers assistance to patients in regaining communication skills that are diminished due to stroke, injury, or other illnesses. Our speech and language pathologist is specially trained to assist patients in recovering their speech, voice, and language capacities. Swallow studies and therapies are also available.
"I hope that I would enable my patients to regain functional use in the areas of speech cognition or swallow strength. I try to motivate them through humor, patience and encouragement of their efforts."
Ted Roush is from Pella, Iowa. He attended Central College in Pella, as well as Iowa State University and received his masters Degree from the University of Northern Iowa. Ted travels to various facilities providing speech therapy services.
Married with two daughters, Ted is interested in auctions, household renovation and construction, yard work, reading, and playing with his granchildren.