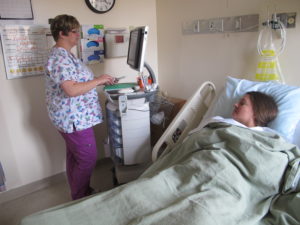 Lucas County Health Center is dedicated to making sure all patients receive quality, compassionate care in a safe environment. Our complete team of health care professionals communicate and collaborate to create a plan of care for you that helps you return home as quickly as possible. As a patient in the Med/Surg Unit, you or your loved one may be listed as one of the following four classifications:
Acute Care: Services generally delivered by teams of health care professionals from a range of medical and surgical specialties. Acute care may require a stay in a hospital with 24 hour care along with assistance from diagnostic and therapy services. Hospital-based inpatient care typically has the goal of discharging patients as soon as they are deemed healthy and stable.
Skilled Care: Care given on an inpatient, 24-hour basis designed to help a patient recover from illness, injury, or surgery; function more independently; and/or learn to care for his/her own health. Patients who have undergone surgery may be reassigned from Acute Care to Skilled Care for extended rehabilitation.
Respite Care: Short-term or temporary care (from a few hours to a few weeks) given to a sick or disabled patient to provide relief, or respite, to the regular caregiver, usually a family member.
Observation Status: Patient may be placed in Observation by a provider while they determine the level of care the patient needs. A patient may be in Observation while he/she awaits testing or the results of tests already performed.
The Medical/Surgical Department is staffed with registered nurses and nursing assistants 24 hours a day, every day of the year. Staff are certified in in cardiopulmonary resuscitation (CPR), advanced cardiovascular life support (ACLS), and telemetry (monitoring for patients in critical condition.)
All of our inpatient rooms are single rooms, ensuring privacy and comfort for patients and their visitors.