Ophthalmology
Services offered:
General ophthalmology
Cataracts, including surgery
Glaucoma
Ocular disorders
…and more
Education
Doctor of Medicine
University of Iowa
Iowa City, Iowa
Training
Residency in Ophthalmology
University of Iowa
Iowa City, Iowa
Fellowship in Cornea, External Disease and Refractive Surgery
University of Iowa
Iowa City, Iowa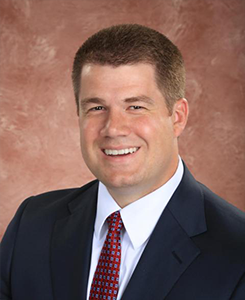 Matthew Rauen, MD
Wolfe Eye Clinic
Phone #: (515) 223-8685
Appointments at Wolfe Eye Clinic
---
Dr. Rauen is a member of the American Academy of Ophthalmology (AAO), the American Society of Cataract and Refractive Surgeons, and the Cornea Society. He continues to publish in scientific journals and speaks on cataract surgery and refractive surgery throughout the country. He has been designated as a "Young Physician Leader" by the Cornea Society, serves on the Eye Bank Association of America (EBBA) Advisory Board, and functions as an Inspector for the EBBA, inspecting eye banks throughout North America. He serves on the American Board of Ophthalmology (ABO) content committee in the field of cornea surgery and is an ABO item writer in the field of cornea surgery and external eye disease.
Locally, Dr. Rauen is the Associate Medical Director of the Iowa Lions Eye Bank (ILEB), one of the world's top eye banks. He served as President of the Polk County Medical Society (PCMS) for two terms (2017 and 2018). First established in 1851, the PCMS is Iowa's oldest medical society and serves the interests of physicians and patients in the Des Moines area.
Dr. Rauen's clinical practice is devoted to the front portion of the eye. He enjoys discussing and using the newest possible technologies that offer greater independence from glasses after cataract surgery. As such, he regularly uses astigmatism-correcting intraocular lenses, multifocal/trifocal intraocular lenses and performs laser-assisted cataract surgery. In addition to focusing on refractive cataract surgery, Dr. Rauen uses the most advanced techniques in performing vision correction surgery. While LASIK laser eye surgery is his most common refractive procedure, he also regularly performs PRK or surface ablation, clear lens exchange, and Visian Implantable Collamer® Lens (ICL) surgeries to tailor treatment to achieve individual patient goals.
Dr. Rauen's cornea practice is devoted to surgical management of the ocular surface and selective forms of corneal transplantation. He is skilled in Penetrating Keratoplasty (PKP), Deep Anterior Lamellar Keratoplasty (DALK), Descemet Stripping Automated Endothelial Keratoplasty (DSAEK), and Descemet Membrane Endothelial Keratoplasty (DMEK). Additionally, in 2016 he was the first surgeon in central Iowa to perform collagen cross-linking – a treatment that has become the gold standard for treating progressive keratoconus.
Above all, Dr. Rauen enjoys educating patients. He does not believe in a "one size fits all" approach. He embraces the idea that patients must understand every technology and surgery available to treat their condition.
In his free time, Dr. Rauen enjoys spending time and traveling with his wife and three daughters. He resides in Urbandale, Iowa and is a member of St. Pius X Parish. He recently retired from his second job of managing a West Des Moines traveling youth softball team.