Audiology
Services offered:
Physical ear exam
Speech screening
Hearing aid prescription and fittings
Audiometer testing
Aural rehabilitation
Tinnitus relief (ringing in the ears)
Custom swimmer molds and ear plugs
Hunting and industrial ear protection
Assisted listening devices
…and more
Education
Bachelor of Science in Kinesiology, Physical Activity and Health Promotion
Iowa State University
Ames, Iowa
Certifications
Hearing Instrument Specialist
Iowa Board of Hearing Aid Dispensers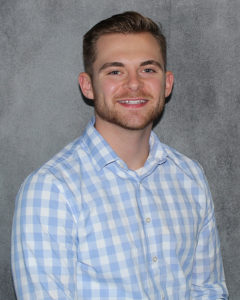 Mason Olson, HIS
ASI – Audiological Services of Iowa
Phone #: (641) 782-2494
Appointments in Specialty Clinic
---
Mason J Olson, HIS is a Hearing Instrument Specialist and has been in training at ASI Beltone for two months. He spends time volunteering at Boys and Girls Clubs and at his hometown church. His favorite part of being a Hearing Instrument Specialist is the look on his patients' faces when they can hear their loved ones clearly for the first time in years. He says that being able to guide people through the process of establishing a better quality of life is something you can't find in many other places.
He enjoys working with patients because everyone comes from a different walk of life, and he has the chance to learn something from everyone he meets. He loves it when appointments turn into story time with conversations that you can't find anywhere else. Mason chose to pursue a career in hearing health because of his grandfather. When he was in college, he knew he wanted to help people and he saw how much hearing aids helped his grandfather at family reunions, lunch with friends and everything else in his everyday life. He realized this was the perfect opportunity to help people, just like his grandfather, and their families.
Mason grew up in a small rural town in North Iowa and currently lives in Des Moines. Growing up he played just about every sport he could, football, basketball, track and baseball. Nowadays he sticks to recreational flag football and basketball and is a sports movie buff. He is an Iowa State fan through all their ups and downs and also roots for the Minnesota Vikings and Timberwolves. In his free time, Mason enjoys spending time with his family and friends and planning fishing trips up north once a year. In the summers he likes to head to Clear Lake or Lake of the Ozarks to go boating with his friends.