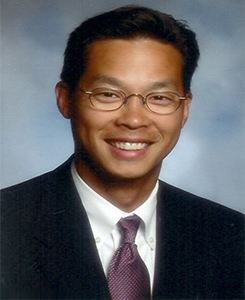 Orthopaedics
Dr. Lin's practice encompasses most areas of general orthopaedics. He has special interests in joint replacement, arthroscopy, sports medicine and trauma. He presented and published scientific papers on the Biomechanics of hip replacement surgery and foot and ankle surgery. Joined DMOS in 1997.
Hometown: Urbandale, IA
Undergraduate Education: Grinnell College, BA, 1988
Medical School: University of Iowa College of Medicine, MD, 1992
Orthopaedic Residency: Carolinas Medical Center, 1992 – 1997, Charlotte, North Carolina
Professional Memberships
Board Certified, American Board of Orthopaedic Surgery | Fellow, American Academy of Orthopaedic Surgeons
Locations where procedures are performed
Iowa Lutheran Hospital | Orthopaedic Outpatient Surgery Center | Lucas County Health Center in Chariton | Knoxville Community Hospital in Knoxville
Satellite Offices
Lucas County Health Center – Chariton, IA | Knoxville Community Hospital – Knoxville, IA
Primary Office Location
DMOS East
Dr. Lin sees patients every other Friday in LCHC's Specialty Clinic. To make an appointment, please call (800) 688-3980.