Pulmonology/Sleep Medicine
Services offered:
Asthma
COPD
Emphysema
Lung Cancer
Shortness of breath
Sarcoidosis
Sleep apnea
Narcolepsy
Restless leg syndrome
Insomnia
Night terrors
Sleep paralysis
Parasomnias
Snoring
…and more
Education
Doctor of Medicine
University of Santo Tomas Faculty of Medicine and Surgery
Manila, Phillippines
Training
Residency in Internal Medicine
University of Medicine and Dentistry of New Jersey
Newark, New Jersey
Fellowship in Critical Care Medicine
Memorial Sloan-Kettering Cancer Center
Manhattan, New York
Fellowship in Pulmonary Medicine
Mount Sinai Hospital
Chicago, Illinois
Certifications
American Board of Internal Medicine – Internal Medicine
American Board of Internal Medicine – Pulmonary Medicine
American Board of Internal Medicine – Critical Care Medicine
American Board of Internal Medicine – Sleep Medicine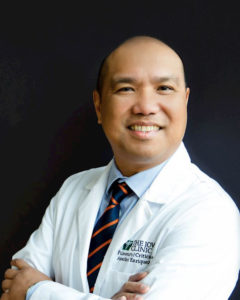 Amerlon Enriquez, MD
The Iowa Clinic
Phone #: (515) 875-9550
Appointments in Specialty Clinic
---
Dr. Enriquez is an Iowa transplant, who grew up in the city of Manila, Philippines. After living in New Jersey, New York City, Los Angeles and Florida, he now calls Iowa his home.
He particularly likes the challenge of Critical Care Medicine; taking care of very ill patients in the ICU. To relax, Dr. Enriquez likes to write, but mostly in his native language. He also likes to run — not from responsibility, but to participate in half marathons and road races.