Pulmonology/Sleep Medicine
Lucas County Health Center is proud to partner with Amerlon Enriquez, MD of the West Lakes Sleep Center to offer pulmonary and sleep medicine services at our facility.
Dr. Enriquez is an Iowa transplant, who grew up in the city of Manila, Philippines. After living in New Jersey, New York City, Los Angeles and Florida, he now calls Iowa his home.
He particularly likes the challenge of Critical Care Medicine; taking care of very ill patients in the ICU. To relax, Dr. Enriquez likes to write, but mostly in his native language. He also likes to run – not from responsibility, but to participate in half marathons and road races.
Dr. Enriquez sees patients on the third Monday of each month in LCHC's Specialty Clinic. To make an appointment with Dr. Enriquez, call (515) 875-9550.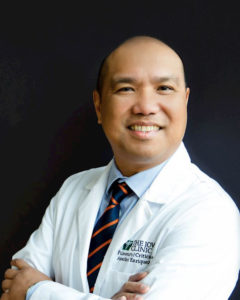 Amerlon Enriquez, MD
The Iowa Clinic
Appointments:
(515) 875-9550