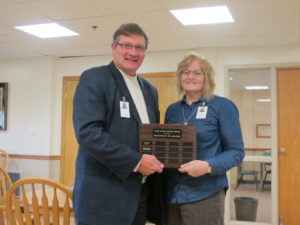 For going "above & beyond" in the best interest of Lucas County Health Center, Terri McCurdy became the most recent recipient of the Employee of the Quarter Award.
McCurdy, pictured with Brian Sims, CEO, was nominated for:
Managing resources well while encouraging others to increase their knowledge and diversity.
Continually working to improve her own knowledge base and skills.
Remaining calm and reasonable while diffusing others during difficult situations.
Being friendly with patients and co-workers so they feel comfortable coming to her for assistance.
Assuring that all patient confidentiality and privacy is met for the hospital.
Emphasizing teamwork and shifting responsibilities of work as needed.
Congratulations for a job well done, Terri!