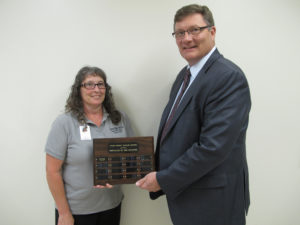 For going "above & beyond" in the best interest of Lucas County Health Center, Deb Lindsey became the most recent recipient of the Employee of the Quarter Award.
Lindsey, pictured with Brian Sims, CEO, was nominated for:
Managing her time very well
Showing compassion and making sure the patient comes first
Making patients feel welcome.  Even when they are dealing with not so welcomed issues in their life.
Always being professional in her job and having a smile for each person she sees
Being willing to work extra hours and pitch in when needed
Looking for ways to improve work flow for the department.
Doing a great job training new employees giving clear directions and explaining processes
Consistently practicing LCHC's customer focus AIDET technique when interacting with patients.
Congratulations for a job well done, Deb!