Lucas County Health Center (LCHC) is pleased to announce Dr. Zach Johnson will be joining LCHC Medical Clinic in September 2024.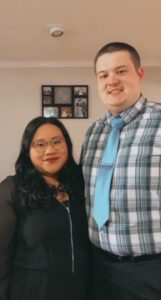 Dr. Johnson has worked in the healthcare field for 10 years, previously working as an EMT and even has some experience with LCHC, having done PRN work with the ambulance service. He is currently in a Rural Family Practice residency program with MercyOne and is expected to complete his training in June 2024.
"Dr. Johnson's passion for rural health coupled with the Johnson's love for small town Iowa will allow them to be amazing additions to LCHC, Chariton, and Lucas County," said Brian Sims, Chief Executive Officer.
Dr. Johnson and his wife, Ana, both come from small towns and look forward to joining the community. They plan to relocate following the completion of his training.