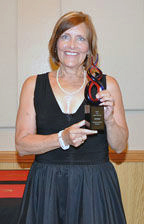 Ann Moon, Pharmacy Manager, was presented with the 2017 Employee of the Year award – a new honor introduced to the agenda this year – at Chariton Area Chamber/Main Street's Annual Celebration on Tuesday, June 13.
This award celebrates the people who make our businesses great. Award recipients are employees who embody the mission of their employer, produce quality work, and consistently display characteristics valued and appreciated by coworkers. They are a reliable compass continually promoting a sense of community within work and through community involvement.
Ann was recognized for displaying Lucas County Health Center's Core Values to a "T" and being an outstanding representative of the facility.
She diligently works to create a sense of team between nurses, physicians, and administration all the while focusing on our patient experience. Her exceptional knowledge base and continuous effort to expand her knowledge and skills in the world of pharmaceuticals was instrumental in creating a Medication Errors Committee within our facility. Ann's "behind the scenes" leadership and willingness to look at things from a different view allowed the Health Center to dig into what issues were occurring and how to improve the process so it was easier and safer for our staff and patients. Her efforts made it possible for LCHC to receive Iowa Health Collaborative's 2017 Patient Safety Award for reduction in medication errors. She is quick to mention that it was the nurses doing all the hard work, but we know that Ann's role was just as important to our success.
Ann also took the lead in navigating the 340B Program, which enables covered entities to stretch scarce Federal resources as far as possible, allowing LCHC to reach more eligible patients and provide more comprehensive services. When our CEO asked what we were doing in regards to a 340B plan, Ann stepped up and researched the program and how we could make it work for LCHC. She is conscientious with pharmacy costs and the requirements LCHC must adhere to in order to ensure LCHC is compliant with all requirements. Her can-do attitude is like no other.
As displayed, Ann's focus is always our patients. Aside from her efforts to reduce medication errors and navigate the 340B program, Ann has always been considered a great mentor for staff in terms of medication education. She understands that medications can be confusing and somewhat overwhelming for many patients and is always helpful with explaining medications and/or suggesting alternate solutions.
Besides her constant efforts to improve our facility, Ann is the epitome of what it means to have a servant's heart. Her dedication and compassion for serving our patients is obvious to all who meet Ann. She works hard and is a constant source of light for those who work with her. Ann fosters a welcoming environment and is a wonderful leader in her department.
Congratulations, Ann, and thank you for all you do to improve the patient experience at Lucas County Health Center!
(Photo credit: Bill Howes – Chariton Newspaper)