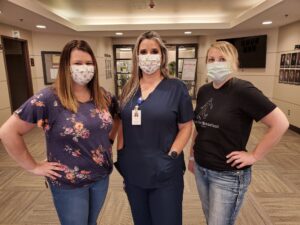 Lucas County Health Center is pleased to announce that Sara Anderson, RN; Samantha Carter, RN; and Tereasa Emerson, RN have completed the International Association of Forensic Nurses' education and training for Sexual Assault Nursing.
A Sexual Assault Nurse Examiner (SANE) is a registered nurse who has completed specialized education and clinical preparation to provide care to sexual assault victims. In addition to providing the sexual assault exam, these nurses collaborate with others in the community, including law enforcement, to provide services to sexual assault victims.
A SANE is highly trained in the collection of evidence and ensures that individuals in the community have a safe place to come for professional care and treatment after a sexual assault where they will not be judged. A SANE may also be asked to testify in court.
"While Sharon Squibb, another Sexual Assault Nurse Examiner, has been able to provide services for sexual assault victims at LCHC for some time now, this furthers our ability to care for patients and their physical, emotional, and social well-being during a traumatic time," said JoBeth Lawless, Chief Nursing Officer.
SANE training consists of online, classroom, and clinical education. To learn more about SANE training, visit www.forensicnurses.org.