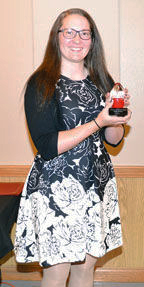 Jena Wiley, Marketing Manager at Lucas County Health Center, was named the 2017 Volunteer of the Year at Chariton Area Chamber/Main Street's Annual Celebration on Tuesday, June 13.
Wiley is a multi-talened volunteer who joined Chamber/Main Street in 2013. She is the Chamber/Main Street Board Secrtary, Chair of its Promotion Division, and organizes the Summer Community Lunch program.
"Jena creates most of our event advertising, monthly table tents, all our annual celebration invitations and programs and is willing at a moment's notice to jumpi n where needed. She uses her marketing expertise to protect our brand, created our style guide, and is a dedicated advocate of Main Street. Jena's ever-present smile and enthusiasm is contagious. She has even roped her husband, Kyle, into organizing our golf events with Mike Armstrong. Jena is a blessing!" said Tammy Brink, Chamber/Main Street Board President.
Congratulations, Jena and thank you for everything you do for our facility and community!