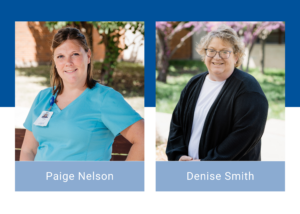 Lucas County Health Center is proud to share the achievement of two of our managers, Paige Nelson and Denise Smith, who have successfully completed the 2023 Iowa Hospital Association (IHA) Leadership Development Program.
The IHA Leadership Development Program is dedicated to fostering essential leadership skills and competencies. It is designed to support healthcare professionals who recently assumed new responsibilities or to rejuvenate the leadership skills of experienced staff.
"Empowering our leaders to expand their skills is critical to the success of our organization," said Brian Sims, LCHC Chief Executive Officer. "We are proud to have Paige and Denise on our team and look forward to their continuous growth as healthcare leaders."
Nelson and Smith were recognized at the IHA Annual Meeting on October 11, 2023.