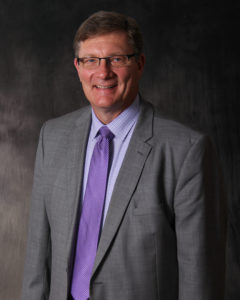 Lucas County Health Center, an affiliate of UnityPoint Health – Des Moines, is pleased to announce that a familiar face will be returning to the facility as Brian Sims has been appointed as Chief Executive Officer.
Sims served as CEO at LCHC from 2015 to 2020 and has spent the last two years as President & CEO at Good Shepherd Health Care System in Hermiston, Oregon. During his previous tenure, Brian led LCHC to several award-winning years, including recognition as a Top 20 Critical Access Hospital, Top 100 Workplaces, Pinnacle Practice, and more. Brian has a strong understanding of strategic vision, operational leadership, foundation development, and physician recruitment. His background also includes a progressive career spanning twenty years in the United States Air Force as a health careers recruiter, manager, and leader.
"Over the last two-plus years, I have had the honor of leading an amazing organization in Good Shepherd Health Care System.  I will miss our trustees, executive team, physicians, and staff.  But being able to come back, close to our family, and have another opportunity to serve the best critical access hospital in Iowa, I find to be the perfect situation for Traci, Nathan, and me.  For us, this is a blessing, and we are more than excited to come home," said Sims.
Brian and his wife, Traci, have four children and will be relocating to Lucas County with their son, Nathan. In his spare time, Brian enjoys golf, reading, and yard work.
Lori Johnson and Teresa Newman will continue to serve as interim CEOs until February 2023.