By Sarah Peterson, Registered Dietitian
The kickoff to summer is officially here and cookouts are in full swing! Break out the grill and enjoy time with your guests outside – cooking up everything from sides to main dishes. Grilling allows you to prepare a balanced meal for your guests, from fruits and vegetables to your favorite lean protein and even toasting those whole-wheat hamburger buns. Let the grill be the star and you become the master behind the grill this Memorial Day with these dietitian-approved tips on how to grill your whole meal from produce to protein!
First – let's tackle why your grill is such a great cooking method to utilize on a regular basis. To start, grilling is a healthier alternative to frying or other cooking methods because it allows the fat to naturally drip away during the cooking process. This results in leaner proteins – cutting down on fat and total calories, along with allowing extra sauces and oils to drip away, further reducing potential added sugar or fat found in sauces, marinades and cooking oils.
Next – the versatility of your grill can't be beat! Practically anything that can be cooked indoors can be prepared outdoors on a grill. Even small items like mushrooms, cherry tomatoes and slices of zucchini can be grilled on skewers or in a grill basket.
Last – it's practical because outdoor grilling allows you to skip using the oven and subsequently heating up the house while running your air conditioning.
Plus – you can socialize with your guests who are enjoying the cookout outside rather than having to step away from the party each time you need to check on the food.
Just because cookout season is here doesn't mean you won't reach or maintain your health and wellness goals this summer. You can enjoy fruits, vegetables, proteins and whole grains – all straight off the grill – helping you create a balanced and flavorful meal. It's important to skip the food guilt and help yourself to foods you enjoy – moderation is key!
Serving grilled fruits and vegetables will not only help you and your guests hit the 5-a-day recommended servings of fruits and vegetables, but they will love having an alternative to traditional salads served at cookouts! Fruits and vegetables pack in a wide variety of vitamins and minerals, plus a dose of fiber to help balance blood sugar and keep you full longer. Find our top dietitian tips for grilling up the perfect produce below. Plus create a balanced meal with our tips for perfectly grilled proteins and grains!
Fruit
Fruits such as nectarines, peaches, pineapple, watermelon and more are great for grilling. Just avoid grilling overly ripe fruit as grilling caramelizes the natural sugars in fruit and weakens the structure. Starting with overripe fruit can result in a mushy final texture or it may fall apart. For the best success, try cutting fruit into larger chunks, using a grill basket or skewering after brushing with a neutral cooking oil that will stand up to the high heat like Chosen Foods Avocado Oil.
Vegetables
Kabobs are a great way to serve up grilled vegetables! For the best flavor, try tossing your vegetables in a neutral, high-heat cooking oil or quickly marinating (20 minutes or less) cut vegetables with your favorite spices, herbs and Chosen Foods Avocado Oil to pack in extra flavor! Check out the recipe below for delicious Grilled Veggie Fajita Kabobs to serve at your Memorial Day cookout.
Protein
Pairing your fruit and vegetable sides with protein at your Memorial Day cookout is a great way to serve up a satiating meal to your guests! Opt for lean proteins such as fish, ground beef that is 90% lean or greater, ground turkey, chicken breasts or pork tenderloin. Protein not only helps fill you up at mealtime but balances blood sugar at meals and is associated with building and maintaining muscle mass. Just be sure to grill your protein until it reaches the proper internal temperature for a food safe celebration!
Grains
Impress your guests by quickly toasting whole-wheat hamburger or hot dog buns, serving up grilled slices of artisan bread such as ciabatta, or grill-ready garlic bread. Save grilling grains for last as they cook quickly! To grill bread or buns, lightly brush cut sides with oil. Place cut sides directly onto grill grates, grilling for 1 to 2 minutes or until toasted to your preference.
For more grilling tips and tricks, reach out to your local dietitian or check out Hy-Vee's Grilling Guide!
Grilled Veggie Fajita Kabobs
Serves 5 (1 each)
All you need:
½ (0.9-oz) pkg Good Graces organic gluten-free veggie fajita seasoning (1½ tbsp)
1 tbsp Chosen Foods Avocado Oil
1½ tsp Full Circle Market light-colored agave nectar
1½ tsp fresh lime juice
10 mini sweet peppers
1 medium zucchini, cut into ½-inch-thick slices
½ medium red onion, sliced into ½-inch-thick slices
1 cup cherry tomatoes
½ cup halved baby bella mushrooms
Crema agria sour cream, for serving
Avocado hot sauce, for serving
Fresh cilantro, for garnish
All you do:
Soak 5 (9.75-inch) Simply Done bamboo skewers for 30 minutes in water before grilling.
Stir together fajita seasoning, avocado oil, agave nectar and lime juice in a medium bowl. Add mini peppers, zucchini, red onion, tomatoes and mushrooms; toss to coat. Let stand for 20 minutes, tossing occasionally.
Preheat charcoal or gas grill for direct cooking over medium-high heat (375°F). Alternately thread vegetables onto soaked skewers.
Grill kabobs for 6 to 8 minutes or until vegetables are crisp-tender, turning occasionally.
To serve, arrange kabobs on a serving platter. Drizzle with crema and avocado hot sauce; garnish with cilantro, if desired.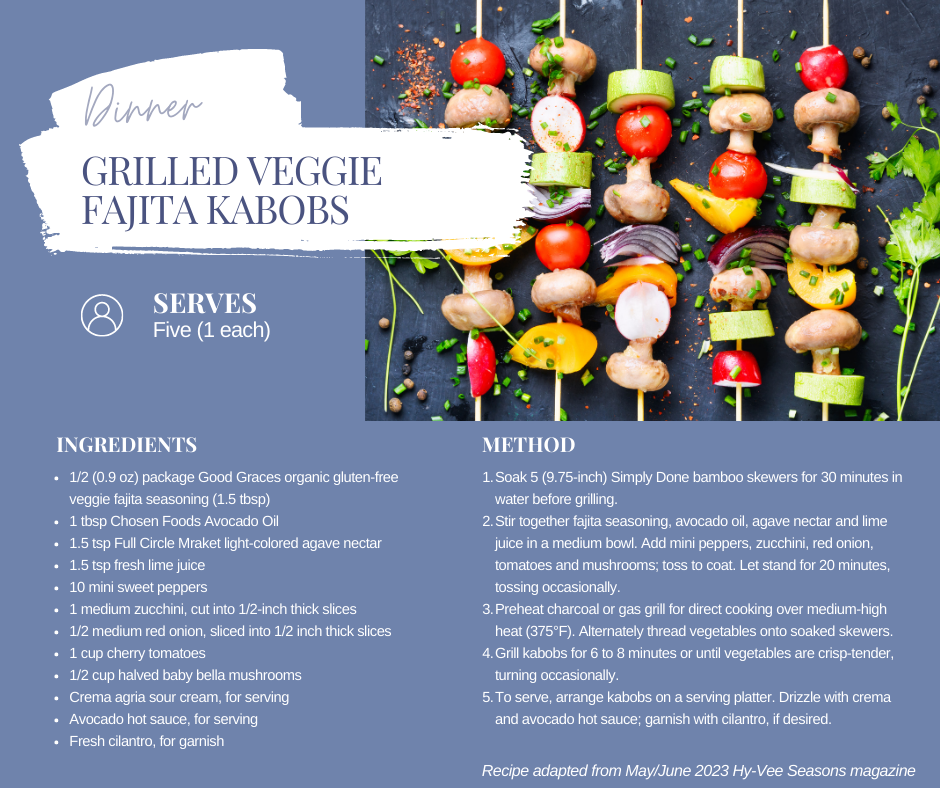 The information is not intended as medical advice. Please consult a medical professional for individual advice.