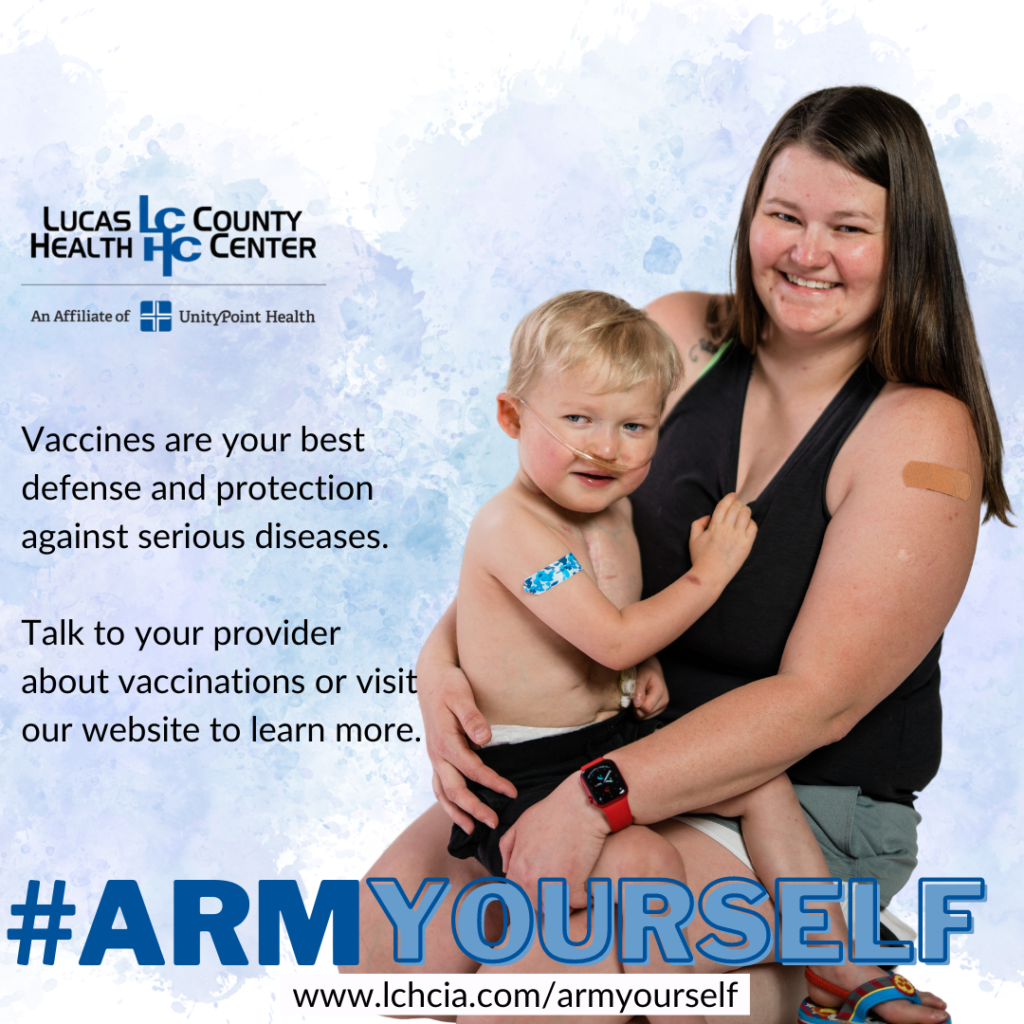 The goal of our #ArmYourself campaign is to improve vaccine confidence by educating residents about the importance of vaccinations and encouraging them to schedule an appointment to get up-to-date on their immunizations.
The #ArmYourself campaign includes any and all vaccinations for all age groups, including MMR, Hepatitis, DTaP, and more. Anyone who schedules an appointment and receives a vaccination will receive a gift as part of our #ArmYourself incentive program.
Children ages 5 and under: Stuffed animal (variety of choices)
Children ages 6 to 17: $10 Vision II Theatre Gift Card
Adults ages 18 and over: $25 HyVee Gift Card
Transportation
Furthermore, to assist our patients with getting to and from the facility, LCHC has partnered with 10-15 Transit to sponsor "free ride" days within our county.
Free ride days are:
Mondays through August 31st
Wednesdays through August 31st
Fridays through August 31st
If you're unable to utilize our Free Ridedays, we will gladly provide you with a voucher to cover the cost of your ride.  To claim your voucher, please call (641) 774-8103.
---
Recommended Vaccinations By Age:
---
Importance of Vaccines
Vaccines play an important role in keeping us healthy by protecting us from serious and sometimes deadline diseases. A vaccine works by stimulating your immune system to produce antibodies, exactly like it would if you were exposed to the disease. After getting vaccinated, you develop immunity to that disease, without having to get the disease first. Unlike most medicines, which treat or cure diseases, vaccines prevent them
---
Frequently Asked Questions:
This website is supported by the Health Resources and Services Administration (HRSA) of the U.S. Department of Health and Human Services (HHS) as part of an award totaling $49,529.00. The contents are those of the author(s) and do not necessarily represent the official views of, nor an endorsement, by HRSA, HHS, or the U.S. Government. For more information, please visit HRSA.gov.