Audiology
Services offered:
Physical ear exam
Speech screening
Hearing aid prescription and fittings
Audiometer testing
Aural rehabilitation
Tinnitus relief (ringing in the ears)
Custom swimmer molds and ear plugs
Hunting and industrial ear protection
Assisted listening devices
…and more
Education
Bachelor of Science in Speech Pathology
University of Central Missouri
Warrensburg, Missouri
Certifications
Hearing Instrument Specialist
Iowa Board of Hearing Aid Dispensers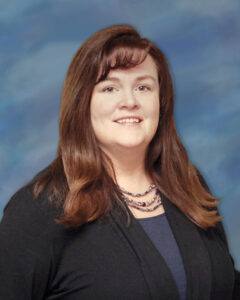 AnnMarie Kinsella, HIS
ASI – Audiological Services of Iowa
Phone #: (641) 782-2494
Appointments in Specialty Clinic
---
AnnMarie Kinsella, HIS has been a Hearing Instrument Specialist/Provider/PCC for 26 years and is a member of the Iowa Hearing Association. She volunteers with the St. Malachy Foundation and the Catholic Daughters in Creston, Iowa, and enjoys assisting patients with their hearing needs. AnnMarie has a Bachelor of Science degree in Speech Pathology from the University of Central Missouri in Warrensburg, Missouri.
Hearing loss is hereditary in AnnMarie's family, so she felt called to help those struggling to hear. She looks forward to addressing the needs of her patients and helping them on their journey with hearing loss.
AnnMarie lives northwest of Creston, Iowa with her spouse Jeff and their three daughters, their corgi, and their chickens. She enjoys rooting for the Las Vegas Raiders and the New York Mets and watching Hallmark movies. In her free time, she enjoys spending time with her family, doing crafts, and going to the Lake of the Ozarks.