Generosity manifests in various ways. Your support for Lucas County Health Center plays a vital role in our mission to provide safe, high-quality healthcare right in our community. As a not-for-profit hospital, we recognize that every contribution, regardless of its size, is instrumental in ensuring the highest standard of patient care.
Your kindness and support enable us to continue our commitment to the well-being of our patients. It's through your generous contributions that we can make a significant impact on the lives of those who rely on our services.
We want to express our heartfelt gratitude for your unwavering support. Your generosity inspires us to work diligently to deliver the best care possible to our community. Together, we can make a difference and create a healthier and happier future for all.
Thank you for being a vital part of our mission.
---
Tribute & Memorial Gifts
If you or a cherished family member has experienced the care and compassion provided by Lucas County Health Center, you understand the profound impact it can have on one's life. Making a tribute or memorial gift is a heartfelt way to express your gratitude and give back in a meaningful way. Your contribution will serve as a lasting honor and, most importantly, it will make a tangible difference in the lives of our patients.
Every gift, regardless of its size, holds a special place in our hearts. Your generosity touches lives and helps us continue our mission to provide exceptional healthcare. To show our appreciation for your support, each donor is acknowledged with a heartfelt thank you. For accrued gifts totaling $100 or more, we also offer a permanent place on our Donor Tree, a symbol of our enduring gratitude.
Your gift, no matter the amount, is a testament to the impact of love, care, and community. It brings hope, comfort, and healing to our patients, and it serves as a tribute to the remarkable care provided by Lucas County Health Center.
Thank you for considering a tribute or memorial gift. Your kindness will be felt for generations to come.
Levels:
Bronze Level – Bronze Leaf: $100 – $999
Silver Level – Silver Leaf: $1,000 – $4,999
Gold Level – Gold Leaf: $5,000 – $9,999
Platinum Level – Platinum Leaf: $10,000 – $24,999
Leader Level – Acorn: $25,000 – $49,999
Benefactor Level – Butterfly: $50,000 – $74,999
Pacesetter Level – Dove: $75,000 – $99,999
Champion Level – Rock: $100,000 and up
To make a charitable contribution or send a memorial gift, please send to:
Lucas County Health Center
Attention: Foundation
1200 North 7th Street
Chariton, IA 50049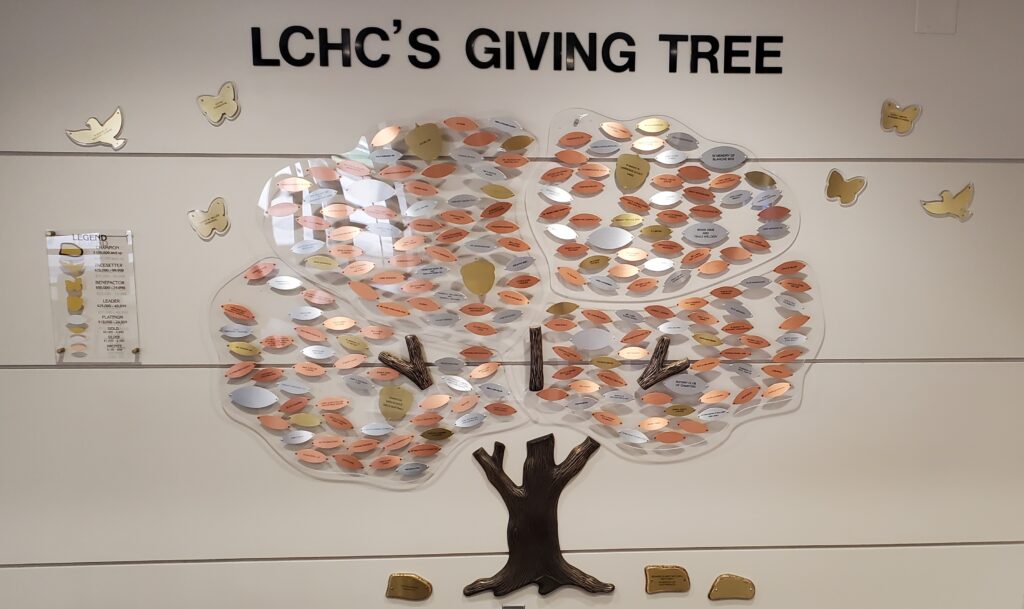 For more information, contact our Foundation Co-Chairs:
---

---
AmazonSmile
AmazonSmile Foundation will donate 0.5% of eligible purchases to Lucas County Health Center Foundation at no cost to you. Amazon customers can set up their existing Amazon account to auto-generate donations for organizations or charities registered with the IRS as a 501(c)(3) – including Lucas County Health Center Foundation.
When first visiting AmazonSmile, you are prompted to select a charitable organization from almost one million eligible organizations. In order to browse or shop at AmazonSmile, you must first select a charitable organization. For eligible purchases at AmazonSmile, the AmazonSmile Foundation will donate 0.5% of the purchase price to the customer's selected charitable organization.