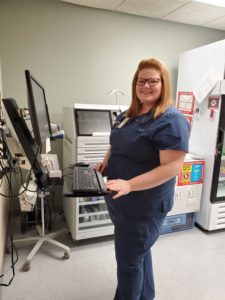 Welcome to Lucas County Health Center. More than 200 employees of LCHC are committed to promoting and enriching your health and well-being. Guided by our Core Values, we provide each patient with high quality, family-centered health care.
---
NetLearning
Employees who need to access NetLearning can do so by clicking the link below.
---
Pay Stubs
Employees who need to access their online pay stubs can do so by clicking the link below.
---
Employee Assistance Program (EAP)
Life can present unexpected challenges like work-related stress, an illness of a family member or a change in finances that require an objective perspective from trained professionals.
Lucas County Health Center recognizes the importance of providing a confidential resource to help our employees deal with life's challenges. The Employee Assistance Program (EAP) is a benefit designed for you and your eligible family members.
---
Community Benefit Reporting
An effective community benefit program builds on the foundational beliefs and consists of several interrelated and essential components. Defining community benefit and developing standard approaches to reporting are essential to program credibility. On this page, you will find definitions and guidelines for determining "what counts" and how to accurately report your community benefits.
Our online reporting form does require a password. If you need this password, please contact Jena Wiley in Marketing.
If you have any questions or need assistance with reporting, please contact Jena Wiley, Marketing Manager, at (641) 774-3219 or via email at jwiley@lchcia.com.
Resources
---
Company Store
Welcome to LCHC's Company Store! Here you will find a wide variety of items that you, the employee, can purchase and have embroidered with LCHC's logo.

Embroidery Options
LCHC employees also have the option to embroider apparel. Please note: Embroidered items cannot be returned or exchanged. Please check the sizing charts on each item in the online catalog to ensure proper fit before placing your order. Employees are encouraged to order the item without embroidery to ensure the items fit. Items can always be embroidered at a later time.


Ordering
For assistance with placing an order or to ask a question, please contact Marketing at (641) 774-3219 (x3219).

---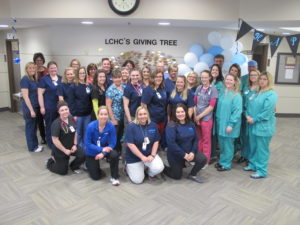 ---
Mandatory Reporter Training
As of July 1, 2019 Mandatory Reporter Training is now online through the DHS website. All LCHC employees must complete both the Dependent Adult and Child Abuse sections (average of 4 – 4.5 hours to complete.) After you complete your initial online, please provide a copy of your certificate to Human Resources. If you have any questions or need assistance contact LCHC Education Manager, Darcy Juline, RN, by email (djuline@lchcia.com) or by calling (641) 774-3204.
---
Health Stream Employee Training
Every LCHC employee is required to complete HealthStream training. Login and passwords are required. If you are having trouble remembering your username and/or password information, you may contact LCHC Education Coordinator, Darcy Juline, RN, by email (djuline@lchcia.com) or by calling (641) 774-3204.
If you experience problems while trying to access HealthStream Training, there could be a variety of reasons. Google, AOL, or other toolbars could have pop-up blockers that need to be disabled. When using Internet Explorer, please check the settings on your pop-up blocker. To set your pop-up blocker settings, do the following:
Go to "Tools" on your Internet Explorer Toolbar
Select "Pop-up Blocker"
Select "Pop-up Blocker Settings"
In the field under "Address of website to allow" type the following: http://www.healthstream.com
Click "Add"
Click "Close"
---
Policies and Procedures
---
Scholarships and Loan Repayment Options
---
Wellness Program
Lucas County Health Center's vision for the wellness program is to foster a culture of well-being. To carry out that vision, we have enhanced our wellness program to improve the quality of life of all employees by promoting health and well-being.
Maintaining an optimal level of wellness is absolutely crucial to live a higher quality of life. Wellness matters because everything we do and every emotion we feel relates to our well-being. In turn, our well-being directly affects our actions and emotions. It's an ongoing circle. Therefore, it is important for everyone to achieve optimal wellness in order to subdue stress, reduce risk of illness and ensure positive interactions.
The Health Solutions link, below, allows you to view your biometric information as well as options to receive the 2020 medical wellness incentive (a savings of $1079) by tracking your wellness points and also allowing you to use online action plans and more to help you achieve your person health and wellness goals. All questions regarding LCHC's Wellness Program should be directed to Human Resources.

Wellness Point Recording
Beginning this year, employees will be required to record their own wellness points on the Health Solutions website. You are encouraged to complete this process each time you complete activities/events that earn you points.
2020 Point System
Employees will need a total of 100 points for the 2020 year and will be required to record them by October 31, 2020 to be eligible for the 2021 health insurance premium discount.
30 points each:
Age appropriate preventive screening (PAP, mammogram, colonoscopy, PSA, etc.)
Healthy Hearts Promoting Healthy Minds 5K Run/Walk
Blood donation
Any sanctioned fitness event or team (RAGBRAI, Race for the Cure, softball team, other 5Ks, etc.)
20 points each:
Flu shot
Dental cleaning (can be done twice per year)
Annual physical
Eye exam
10 points each:
Attend a wellness learning event (Healthy University, etc.)
Attend a Lunch and Learn
Attend an exercise class (yoga, Zumba, etc.)
Any event or challenge the Wellness Committee offers
---
Digital Signage Request
To request content to be added to LCHC's Digital Signage, fill out the form below. Content must be submitted electronically a minimum of five (5) business days in advance.